About Trae McMaken
Traditional Artistry, Contemporary Energy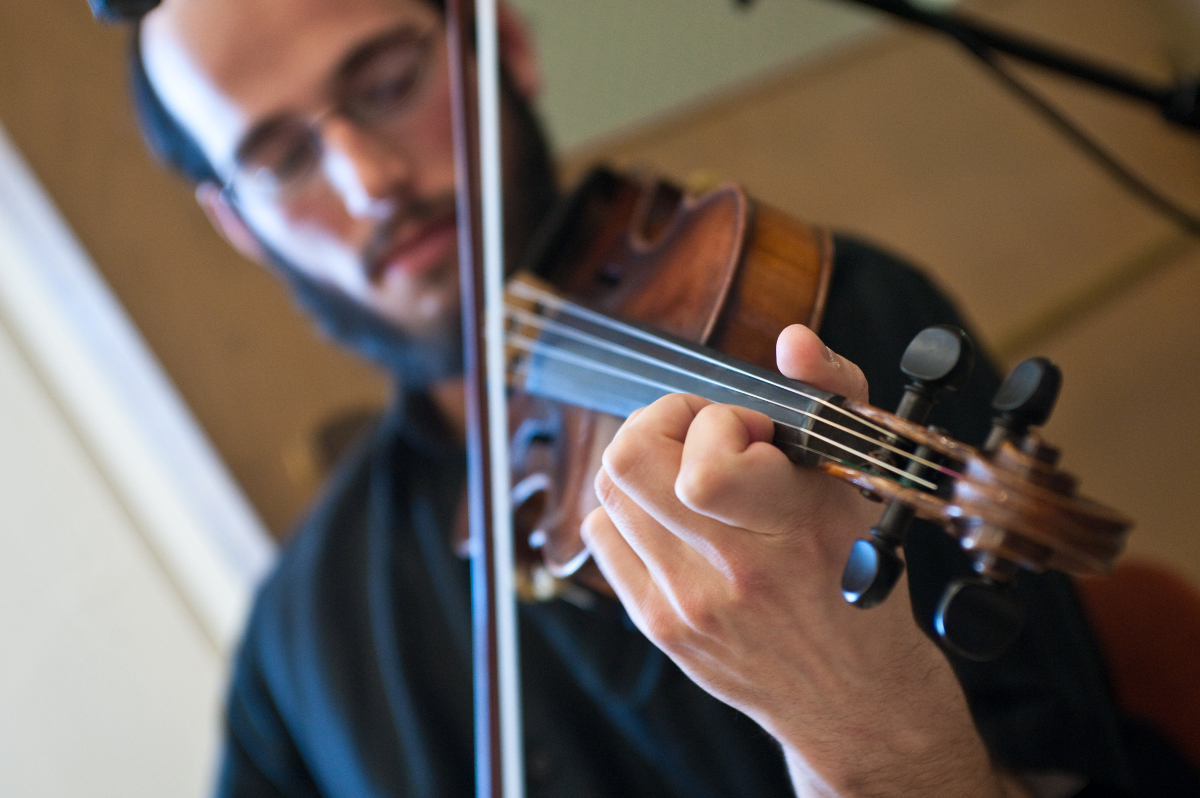 "Trae McMaken astounded the audience."  "A terrific fiddler and singer he definitely is!"  -- Beaver Island News on the 'Net.
Read reviews of A. Trae McMaken.
Trae McMaken doesn't just play a good tune, he creates an atmosphere of story, history, and community.
The Musician
Growing up on the Michigan-Ontario border, Trae imbibed varied styles of fiddle playing including Irish, Scottish, Quebecois, Ontario Old Time, and Michigan Old Time. Trae can not only switch between these stylistic accents, he melds them into a dynamic creolized language of fiddling that reflects the diverse traditional heritage of his home region.

During an over three year stint as an adjunct professor among the faculty of the Bluegrass, Old Time, and Country Music Program at East Tennessee State University, Trae delved into Southern American traditions. Though a fiddler, banjoist, multi-instrumentalist, and singer of wide explorations, Trae's continued passion for the music of the Great Lakes marks him as one of the few remaining practitioners and tradition bearers of that region's musical trove. He created www.michiganfiddle.com and www.borderfiddle.com as projects to preserve and promote Michigan's fiddle traditions. Trae brings all this history and tradition and couples it with contemporary energy and experience in his songs and tunes.
The Storyteller
If you've never experienced the old art of the raconteur, don't miss Trae's shows. He brings history, personal experience, traditional tales, and lost places to life through storytelling. His home in the rural Great Lakes region has gifted him deep and rugged stories of an often forgotten landscape and people, and his travels in the world as a fiddler and adventurer have further equipped his life to share with others. Trae was featured by the Partnership for the National Trails System in their Magazine Pathways Across America for his work as a historical storyteller and musician recounting the 18th century Battle of Kings Mountain with the Overmountain Victory National Historic Trail and the Overmountain Victory Trail Association.
Through research and imagination, Trae brings echoes of historical voices to the present. Some people bring treasures from afar. Others draw them up from the deep wells of their own backyards. Trae merges both together. 
The Recording Artist and Author 
Trae's album For the Long Winter Nights takes a vivifying look at the fiddle and song traditions of the Great Lakes and also incorporates some of Trae?s original numbers. This is deep-set music, played by a dynamic performer who honors his region and traditions. The album is joyful and contemplative, historical and contemporary. Find it on Amazon, iTunes, CD Baby, or at any of Trae's shows.
In 2012, Trae collaborated on master cittern player Jospeh Sobol's album Citternity: Celtic Cittern and Beyond (2012), which also features Martin Hayes, Laurence Nugent, John Williams, and others. In addition, Trae performed on The McMaken's debut album, Sleep Easy (2009) .
Trae's 2012 book Rosin For Breath: Reflections of a Traveling Fiddler is a multi-genre collection that expresses the experience and point of view of a fiddler on the roam. It's an exploration of why and what it means to participate in a unique way of life. It's a story about joining a centuries-old tradition in the contemporary world. It's a tale of adventures and mistakes, hard times and good times, beauty and sorrow. It's a story of a soul. It's a tale of living life with rosin for breath.
Click here to find Trae's album or book in the store.
The Performer and Educator
Trae has an active performance and teaching career and appears at libraries, schools, historical sites, workshops, festivals, camps, outdoor education programs, churches, private functions, and more. In the fall of 2012, Trae performed his storytelling show, Tales of Frontier Conflict: The Battle of Kings Mountain as a sponsored storyteller for the National Park Service and the Overmoutain Victory Trail Association throughout Virginia, Tennessee, and North Carolina. He has also worked with Michigan State University Extension, Northern Michigan University, and the University of Notre Dame as a performer. Click here to see what Trae's been up to the past few years or read reviews of his performances. 
In 2011, Trae taught a fiddle workshop in Luka nad Jihlavou in the Czech Republic, and he has also taught workshops for the National Parks Service, the Midwest Banjo Camp, the Goderich Celtic Festival in Goderich Ontario, and on. 
As an old-time banjo player, a singer, guitarist, and a harp player, Trae's performances do not lack the appeal of a multi-instrumentalist, and a wide performance career has equipped him to fit in easily to a variety of different performance venues. Festivals, schools, concert halls, backyards, churches, pubs, weddings, homes and many more locales and events have appreciated Trae's tunes, songs, and stories. Trae would love to be a part of your event. Please contact him by clicking HERE.
The Folklorist
Trae has achieved two master's degrees focusing on various aspects of folklore studies, and years of experience teaching at East Tennessee State University in the Bluegrass, Old Time, and Country Music Studies Program. Recently, he has been conducting fieldwork with Michigan State University's Folklore Museum as part of a National Endowment for the Arts grant project focusing on Michigan's fiddle traditions. In northern climes, Trae founded a website for the promotion and preservation of Michigan fiddling. In the realm of Appalachian folklore, Trae was a contributing researcher to the multi-disc collection, Milestones: Legends of the Doc Watson Clan (2013). In addition, Trae contributed as a researcher for the Center of Appalachian Studies and Services DVD release, Ray Hicks and Other Beech Mountain Folks (2011).